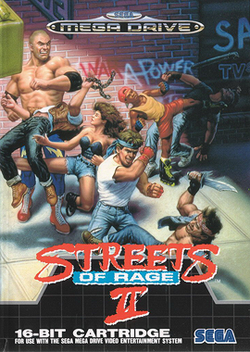 Last week, I did a little post centered on the old video game console of my youth, and ever since I haven't been able to stop dreaming about somehow playing
Streets of Rage 2
again.
Somehow, someway.
It was a game that I could easily conquer in one sitting, yet I'd literally do said conquering once a day, sometimes twice if the schedule was light enough.
Streets of Rage 2
will forever hold the crown as "Best Video Game Ever Made," and those who feel differently, go forth and watch Philosopher
Billy Madison
debate the merits of Donkey Kong in the cafeteria, and simply insert
Streets of Rage 2
in
Donkey Kong
's place.
Just give me Max Thunder, and watch me barrel through skater punks and trashy bikers; or request that I play with Axel Stone, and prepare to feel the "Grand Upper!"s and atomic force of a baseball hat to the skull. Or, an option that was more my speed back in my more innocent, discovering-the-opposite-sex days, let me play with cutie Blaze (
in more ways than one
, would've been the preferred scenario....double entendres about video game characters = sad).
You can keep puny, useless Skate, though. Speed and agility gets you nowhere but to "Game Over" land when you have 12 thugs all last-named Signal surrounding you on a pirate ship.
And how about the music here? I hate techno music as much as the next DJ-Premier-loving head, but if this shit came on in a club, I'd knock back some Petron, grab a glowstick, and find the nearest probably-on-drugs chick and watch her "rock that thang like..." (that The-Dream song jams hard, btw).
If Blaze were a real person, she'd be the first on-the-dancefloor dame I'd inch my way over to:
***Okay, this was officially the biggest nerd-post I've done yet. Kinda fun, though. Shall be plenty more like it....