I'm ashamed, but acceptance is half the battle, right? Talk about being
late to the party
. More like, bumrushing in while the cleaning crew is stacking chairs and attacking the vomit and garbage-on-floor with Swiffers.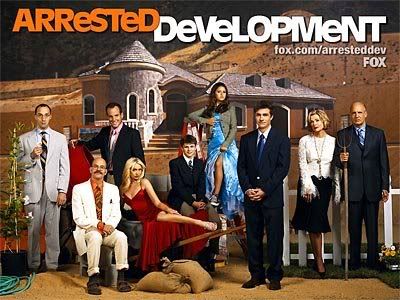 The G4 channel (I heart Olivia Munn, by the way....that needed to be said, first and foremost) is in the midst of an
Arrested Development
marathon, and I'm mad at revealing this, but this is the first time I've actually watched the show.
Pathetic, I know, I know.
I read every glowing, ecstatic review; watched it win award after award; felt the electricity charging through every "possible
Arrested Development
movie" rumor and news bit scarfed down by the fanboys and pop culture heavies. But for no discernable reason, I never cracked down and watched it on the tube before it was cancelled, nor rented the season DVDs to play Heinz catch-up.
But man, is the shot great. I've laughed like The Riddler all afternoon, been entertained to no end. And now I understand. I sympathize with the cultists who've prayed for a movie-of-closure, or even some fresh episodes.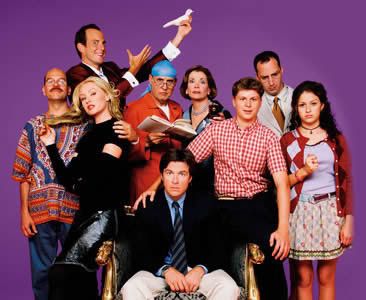 The cast is pitch-perfect: Jason Bateman as the level-headed nucleus of the Bluth family, a well-off, money-holding brood full of more dysfunction than The Simpsons and the Griffins combined; Portia De Rossi, who's much sexier than I ever gave her credit for, as the "looks first/morals second" sister, and aunt of Bateman's/Michael Bluth's son 'George Michael' (played by the young champ of understated awkwardness, Michael Cera) who's in love with his cutie of a cousin. Then there's Will Arnett, Jeffrey Tambor. And others, all great, all essential.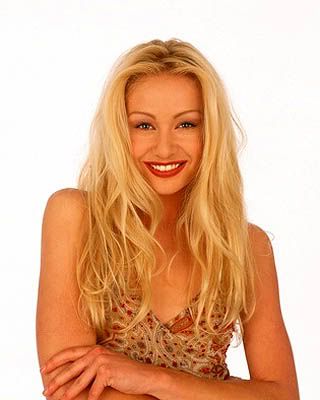 De Rossi....well done, Ellen Degeneres. Well done.
The writing is wintery-nipple sharp, the naturalistic acting feels like brilliant improv. You have Ron Howard producing, and even narrating every episode. It's quirky, intelligent, charming, off-putting, and downright funny. Sucks that I have to head to my aunt's, and that my parents don't have DVR at their house. Means I'll be missing the majority of the marathon.
Should I just buy the season DVDs? Or toss them all into the Netflix murderer's row?
I'm preaching to an already-huge choir of loyalists here, but I don't actually know many who swear by Arrested Development, so maybe this'll inspire some to seek the show out for themselves. If you feel like you share th4 same kind of humor-loving as I (i.e.,
Family Guy
,
The Office
,
Curb Your Enthusiasm
,
The Life & Times of Tim
, etc), then
Arrested Development
is foolproof.
***Oh, and of course....Happy Turkey Day to whoever reads this. May it overflow with turkey-induced food comas, not-so-water-y cranberry sauce, warm corn muffins, bonding time with your family, and minimal familial dysfunction.
And, for those who like leaving things on a glorious, smile-ringing note, here's a pic of aforementioned Olivia Munn, simply because it puts a smile on my mug every time I glance its way. Could, and should, do the same for others. Peep: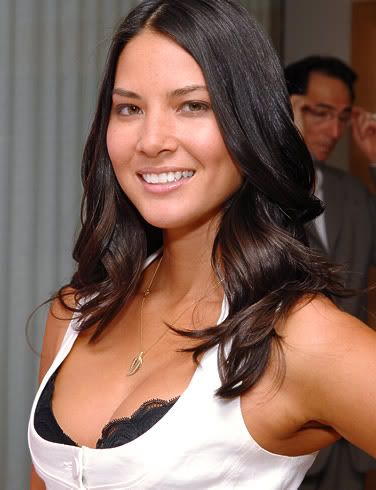 M.B. Dreamgirl-worthy, much?