**Shit, still waiting for that one terrible movie to end my mostly-positive streak. This one wasn't it**
See, this is the exact kind of movegoing experience that makes me long and dream of ways to meet some new friends, who'll check out any-and-all types of flicks at the drop of a dime. Until that day, though, I'm stuck seeing shit by my lonesome, and deliberating about what I just watched within my own thoughts, debating and discussing to myself, like some schizophrenic.
This is also the exact kind of film that critics and cinema-buffs alike allude to when they describe something as "a film that'll divide audiences split down the middle." Or, if it's not that exact kind, then it essentially embodies what that distinction means. Having just seen it (alone), I'm currently ass-first atop the fence, heavily leaning toward the "loved it" side but not totally sure just yet. It's an uncomfortable, prickly, booty-hurting, yet strangely satisfying and invigorating place to sit.
Synecdoche, New York
. What a peculiar mind-bang, a dense, infinitely-layered and intentionally impossible-to-definitely-decipher directorial debut from Charlie Kaufman, an Academy Award winning screenwriter (for
Eternal Sunshine of the Spotless Mind
) who's known for his uniquely-eccentric and beautifully constructed stories, which also include
Being John Malkovich
and
Adaptation
. His projects never follow the rules, and require multiple viewings to fully grasp and either like or loathe.
Synecdoche, New York
(which he also wrote) is pretty much Kaufman at his most personal, and most what-the-fuck.
Again, I'm still figuring out where I stand on this one. On the one hand, I was never less than intrigued, and in-tune. Largely due to its lead, Philip Seymour Hoffman, an outright-brilliant actor who's officially in my top three favorites now. Just watch his boiling rage and conflicted selfishness in Sidney Lumet's slept-on
Before the Devil Knows You're Dead
, or any of his other powerhouse performances, whether major (
Capote
) or minor (
Boogie Nights
,
Magnolia
). And here, in
Synecdoche, New York
, Hoffman's ability to convey this inner sense of torment, pain, and crackling hope is on front street, and it's something serious.
This isn't an easy one to break down, plot wise, but I'll give it my best go. Hoffman plays Caden Cotard, a director of stage plays living in Schenectady, New York, with his wife Adele (Catherine Keener, who, ever since
40-Year Old Virgin
, I've had such an older-woman-hard-on for) and four-or-so-year-old daughter Olive. Caden's growing increasingly sick, much to his surprise, and he's feeling somewhat detached from life and his own ambitions. Detecting as much, Adele--an accomplished canvas artist--takes Olive and moves to Berlin, leaving Caden to test his temptations with the cute, shy box office clerk, Hazel (played by Samantha Morton), who clearly has a thing for him. But then, one day, he's awarded a MacArthur grant, and decides to relocate to New York City to write, produce, and direct a massive stage play full of "purity and truth," and centered around his own life and starring the entire town of Schenectady, who travels with Caden to wherever-the-hell-they-go. "Synecdoche," I guess. Only, the play begins mirroring his present reality---actors trading identities, scenes flip-flopping with real events, Caden and Hazel hire doppelganger/identity doubles. And, unsurprisingly, shit gets really confusing.
Before I delve into my thoughts concerning this wild shit, it's worth noting just how many great actresses there are in this, all given meaty and challenging roles. Michelle Williams, Dianne Wiest, Jennifer Jason Leigh, Hope Davis, Emily Watson. Kaufman deserves credit for scribing a smorgasbord of strong female characters, for sure.
So now, on to my personal analysis of
Synecdoche, New York
. Leaving the theater, initally, I was battling between a few different theories. [POSSIBLE SPOILER ALERT, THOUGH I'M SURE NONE OF THIS WILL REALLY MAKE SENSE UNLESS YOU'VE SEEN THE FILM, AND I DOUBT THEY'D REMOTELY RUIN THE VIEWING EXPERIENCE IF THIS ENTICES YOU TO DROP CASH ON THIS FILM, WHICH I HIGHLY ENDORSE, MIND YOU]....[ONE MORE NOTE: I'LL EXPLAIN MY THEORIES WITHOUT REVEALING MUCH EXACT PLOTPOINTS OR DETAILS, FOR SPOILER-FREE PURPOSES...REALLY, THIS IS MORE FOR MY OWN NEED-TO-JOT-DOWN-MY-THOUGHTS INTENT MORE THAN ANYTHING ELSE...OKAY, ENOUGH OF THIS ALL-CAPS BULLSHIT]
1) Caden's dead, and "Synecdoche, New York" is his heaven. The massive stage warehouse where he's conducting his latest production is heaven, and it's where he's directing scenes that are re-evaluating his past life and allowing him to change his own past, for piece of mind's sake. He learns about the deaths of loved ones as they actually happen in the living world, and what we're watching is progressing years at a time, without us knowing how many years exactly unless it's voiced by somebody in a scene, which happens a few times.
2) Or, Caden is a God-like figure, and all of these scenes and characters-upon-inverted-identities are his attempts at bringing happiness to the slew of actual soul-filled people in the film---Adele, Claire (Michelle Williams), Olive, Hazel, etc.
3) Or, Caden's a dreamweaver, and all of the individual scenes he's directing are dreams of those actual soul-filled people
4) Or, any two of these at the same time. Or all three at the same time. Or none, and I'm way the fuck off on all accounts.
Though, I'm sort-of confident about one thing....this is Kaufman working out his own fears of death and the afterlife. Or so I think. My confidence, my ass. Well, "confidence" does, actually, allow me to declare
Synecdoche, New York
as a work of pure writer's joy, a narrative so passionately and intricately developed that it deserves unanimous applause regardless of a person's individual opinion.
Sounds tricky, huh? Fucking tell me about it. At this very moment of typing, I'm still tossing around theories and conflicting schools-of-thought. It's all a lot to register, which is why, the more I think about it, I'm pretty sure that I'm a surefire fan of Synecdoche, New York. Whether I can fully explain it or not, and whether Kaufman actually achieved his initial artistic vision or not (which we'll probably never know, since Kaufman is one of those auteurs who refuses to explain his visions, which I salute him for, honestly), the profound impact that the flick is having on me is crazily effective.
This film falls firmly in place with other "bewildering, confusing, maddening to the point where I want to immediately rewatch and rewatch, to tear the shit apart" movies I've grown to love: chief among these, David Lynch's triple whammy of
Mulholland Drive
,
Eraserhead
, and
Inland Empire
. These are head-smashers that I've argued about before, it seems that people get a tad peeved that I love these movies so much, even though I can't really solve them or justify the mind-numbing effects they inspire. But fuck it, I'm all about being challenged by something uncompromising and twisted. Kick rocks.
I get it, too. Kaufman deifnitely could've trimmed some of the later "this is Hoffman as acted by a taller guy as watched by Hoffman, who is standing next to Samantha Morton as acted by Emily Watson, in a scene that may or not may not be real" sequences. Some seemed to there for little more than momentarily comic relief. Also, something tells me that the point of
Synecdoche, New York
is lost in the shuffle of so much exposition and character interaction. In this respect, I'm not even sure if I can this a total success. Again, I'm conflicted here, my dudes.
The dictionary defines "synecdoche" as.....
"A figure of speech in which a part is used for the whole (as hand for sailor), the whole for a part (as the law for police officer), the specific for the general (as cutthroat for assassin), the general for the specific (as thief for pickpocket), or the material for the thing made from it (as steel for sword)."
Surely, the fact that Caden's from Schenectady and the film's called Synecdoche (two similarly-structured words that rhyme) has some meaning and significance. And in time, hopefully shorter than longer, I'll definitively know. But at this exact second, my brain's a bit too fried to try. So I'll sleep on it.
But hats off to Charlie Kaufman.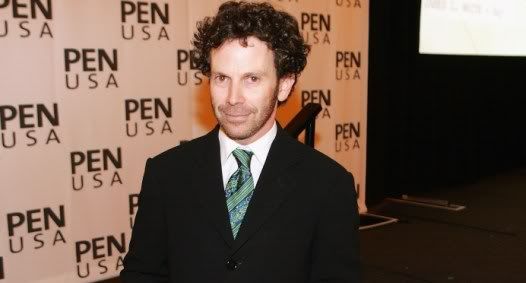 Many critics hate this film, and many others are in awe. I'm closer to the awe side, though saying I "love" it would be somewhat premature. I need to sit with this one and watch it a few more times, to lock into a true opinion. Problem being, this shit cost $12.50 to see (in Times Square, sadly not a free press screening), and that's a raping-of-the-wallet I refuse to bend over for again. Will just have to wait for the DVD to land. And hopefully some friends will be game to watch with.
Synecdoche, New York
is funny, sad, depressing, uplifting, touching, dark, eerie, plodding, dragging, visionary, secular, angering, and at times ridiculous. But at other times impressively intelligent and wholly-realized.
I need to rest my head, now. Shit's throbbing.