Really, truly entertaining film. Not one that I thought I'd be as enthused by; in fact, I expected to either fall asleep or slip into a la-la-land full of "what to eat for dinner?" daydreams (chastise if you may, but I can't say that Richie Nixon has ever been a point of interest in my brain; now, though, it's time to play catch-up and DVR some History Channel specials on the guy). But not a second zipped by during
Frost/Nixon
where I wasn't hooked in, compelled. Ron Howard is always accused of lacking his own personal "directing style," and I've never been an Opie apologist, by any means, but his chameleon-ish touch works wonders here. It's tight, well-directed, nicely-structured. Has some useful flash-forward interviews with some of the key players, giving nice padding to certain plot points. The interview sequences, particularly the final climactic one, are shot like a
Rocky
endgame in-ring brawl, with clenching facial close-ups and tense-to-battered emotions.
Howard himself has said that he envisions this as "the thinking man's Rocky," and it definitely shows. There's the underdog, David Frost, a celebrity interviewer more known for his chit-chats with the Bee Gees and hosting lavish parties with guests the likes of Michael York, Hugh Hefner, and Neil Diamond; and then there's the champion of sorts, former President Richard Nixon, hot off his resignation due to the Watergate scandal, and mostly out of the public eye, yet harboring an urge to fix his public image somehow, someway.
If stat sheets and resumes were to decide, Frost had no right to even sitdown with Nixon, let alone ever defeat him in a test of wits and reserve. But the underdog defeated the big bad wolf this time, and political history's version of David versus Goliath makes for fun ride of a movie.
Their qualifications and lack-there-of, their areas of expertise and pressure points, and fluffy spots where hits could hurt the most are all set up so well that when it comes down to the revelatory sitdown over Watergate, where Frost has already proven his haters wrong and been trampled by Nixon in their previous three 2-hours interviews, with Frost expectedly throwing softballs Nixon's way and allowing the master-of-command to ramble on and on, controlling their exchanges like a hypnotist, the scene is explosive.
Great acting all around, especially by Frank Langella as Tricky Dick Nixon ("Dick Hixon before he dicks you," as the old joke my dad loves so much goes). He may look absolutely nada like the man, but Langella gives his essence a charge of vulnerability and undeniable charm that you can't help but like Nixon here, even though you're fully aware of the fuckery he's done at the expense of his country. Supporting roles played by the great Sam Rockwell, "The King" himself Oliver Platt "
I will crown you!
"), and best-when-stoic Kevin Bacon are all successful, and then there's the radiant Rebecca Hall, a gorgeous (and I really mean the word "gorgeous" here; it's honestly the best word for her) talent who always pulls eyes away from everybody else around her (just check her in
The Prestige
and
Vicky Christina Barcelona
for evidence).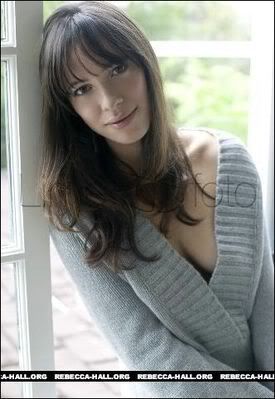 Full eyes, pouty lips, slender model-like frame....yeah, she's got it.
But again, and I can't stress this enough: this movie surprised the Hades out of me. I went in expecting this year's equivalent to 2007's
Charlie Wilson's War
, a critically-adored topical drama that just couldn't connect with me. I respected it some, but had no real draw, or energy, while watching.
Frost/Nixon
, on the other five-fingered-limb, never bored or dragged for yours truly. It had some awkward laughs, even straightforward chuckles, which kept its pulse zooming along, rather than coming off pretentious or condescending via zero humor.
Even if you're not a political head, or history chum, I'd say give Frost/Nixon a look. Comes out this weekend, has my seal of approval (not that my thumbs up means much at this point, I realize).
***A helluva week-and-a-half ahead....
The Wrestler
tomorrow;
Benjamin Button
on Wednesday;
I Love You, Man
on Thursday,
Cadillac Records
on Friday; and then next Wednesday,
Revolutionary Road
. Awesome.