Granted, I'm nowhere near the "man" status that George Clooney and Michael Phelps are, so checking in wouldn't guarantee similar results. But it'd be worth a chance, no?
First, Clooney wifed up a hostess from the Palms hotel in Sin City; and now, Phelps is nailing a different Palms hostess. I know Vegas is beaming with fly cocktail waitresses and on-the-floor casino workers, but shit. Seems like the Palms is a goldmine just waiting to be fully tapped into....
Clooney's ex (Sarah Larson)...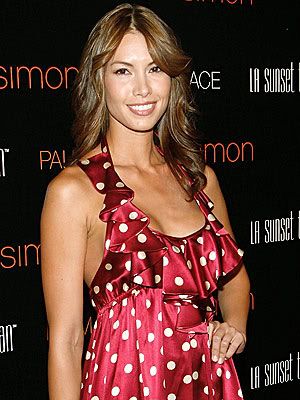 Phelps' current main-chick (Caroline "Caz" Pal).....
Look at those dames....fuckin' desirable celebrity bachelors.
I'd
get little more than a cheap smile and a "tip me, well, asshole" aura.
Another goal, formulated.
"Mommy, I wanna bag a Palms Hotel hostess when I grow up."***Funny semi-related story: A couple years back, some friends and I took a vacay in South Beach, MIA. We stayed at The Royal Palms hotel, right along the water. Great location, reasonably-priced, but our suite was full of malfunctions. The fridge didn't work; the pull-out couch looked like the Grand Canyon (back problem central); and the one bathroom was in the one bedroom, meaning little privacy. Certainly not worth the once-seemingly-reasonable fee we each paid. Being the quick-witted guy I am, I quickly renamed our resting place "The Royal Palmjob." Get it? I thought it was pretty humorous, as did my pals. Whatever.