Last night, Tobe Hooper's
The Funhouse
(1981) failed to live up to expectations set upon it by critical write-ups and general secondhand nostalgic appreciation, so I went into tonight's '80s-makeup-of-lost-time-watching, Stuart Gordon's
Dolls
(1987), with a palpable dose of apprehension.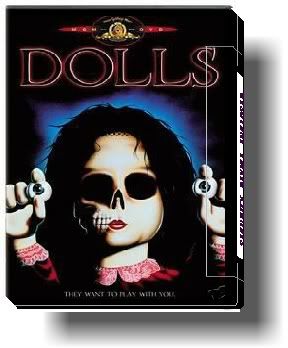 Dolls
struck me as a kindred spirit to
The Funhouse
, from its trapped-in-a-scarehouse setup (this time, motorists stranded at the home of a couple psychotic geezers who make killer toys) to its director, Stuart Gordon, a second-string horror giant with an uneven resume, a la
Funhouse
's Hooper. Glad to report, however, that
Dolls
is superior in nearly every way. Much more fun, balancing self-awareness with gleeful macabre. Still has its hefty share of faults, mainly in its lack of any pure tension despite its good ideas and too much goofiness, whether intentional or not. But in all,
Dolls
is slightly-more-than-passable entertainment on a quiet Monday night.
Unsurprisingly,
Dolls
has registered on a much more personal reflection level than any degree of cinematic stimulation. The reason: as a kid, I had tons of dolls. Action figures galore, from scattered G.I. Joes and
Star Wars
' (and I'm not even a
Star Wars
"fan," per say) "men" to every single Teenage Mutant Ninja Turtles figurine visible to man's eye. Stuffed animals ranging from a Super Grover (silver cape and all) to Teddy Ruxpin (Teddy was my man...wanna fight about it?).
The cream of my toy closet's crop, though, was none other than the coolest doll of them all: My Pet Monster
My Pet Monster and I went to hell and back together. For as long as my imagination could sustain at any given time, the two of us fought off zombies, hung out with my imaginary friend Tim (who died in a house fire in Fair Lawn, fake story; I could even show the exact house that my childish mind pegged as his charcoal tomb), tormented my family's house-cats. Wherever I went, My Pet Monster traveled shotgun. Up until about age ten or eleven, I'm pretty sure that My Pet Monster ate with me at the dinner table, much to my parents' raised eyebrows. But public opinion meant nathan to me, because My Pet Monster was my co-defendant. See, I didn't get a dog until the first day of high school, freshman year, so My Pet Monster was really all I had when social interactions petrified me, or immature insecurities reigned triumphant over my adolescent subconscious. Shit, who knows where I'd be without MPM.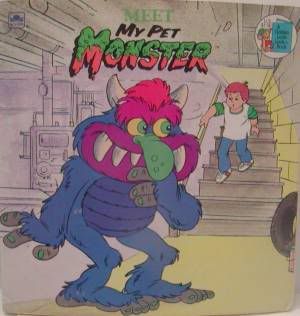 These days, he's lyin dormant at my parents' house. Resting comfortably in the top shelf of my bedroom's closet, all shoddy and worn down. Faded, some stitching having come undone. I remember a couple years back, I went to Toys 'R' Us to get my niece a Christmas gift. What an awesome, never-wanted-it-to-end experience that was. Aisle after aisle of melancholy memories, wishing I could be a little kid again, realizing that those days will never be again. And then, as some sort of cruel joke from up above, there it was. A new and improved My Pet Monster, a bit more gray than blue in coloring, but still with the same physical build and orange chain. I stood there in the aisle, frozen in happiness, for a solid two minutes straight. Pondering,
Should I just buy this for myself? Would my own elder My Pet Monster be jealous?
Ultimately, I decided to save the $25 and put it toward an extra gift for Baby G. I figured,
The MPM that's been nothing buy loyal to me all of these years is all I need. To get by. Byyyyyy.
A slicker, modernized model couldn't offer anything worth shaming my old dude.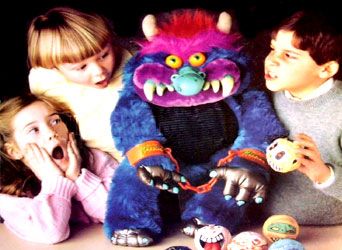 My Pet Monster was my original BFF, and I now have Stuart Gordon's
Dolls
to thank for bringing those fond recollections back into my mind's forefront. Indirectly. The namesake porcelain protagonists in Gordon's films are nothing like My Pet Monster, really. It just goes back to a line voiced by the evil old man character, something to the effect of (and I'm paraphrasing here), "Your toys never forget. They're always with you." Like MPM is surely smiling back at the 'rents', happy that his mans and them is doing well. Living life. Healthy and all that.
If I had more time on my hands, I'd now go into my other childhood partner-in-crime, Billy Baloney. The
Pee Wee's Playhouse
character that my parents brought into my world during the MPM years, and who battled through mutual jealousy with the Pet Monster before shaking hands and mutually accepting similar BFF duties in my life.
One of these days, I'll opine over Mr. Baloney. For now, though, this is My Pet Monster's moment. Time to let him stand under the streetlight.