As they frequently do,
Vanity Fair
has another creative, amazing-looking multiple-actor photoshoot coming out in their next issue, this time celebrating 2009's new class of comedy royalty, or something to that effect. I guess it doesn't matter that every one of these actor-comedians was around last year, too, making this just an extension of 2008 rather than some sort of prediction/speculation statement. When the shoot is this awesome overall, though, small details like that are frivolous.
Included in the shoot are: Seth Rogen, Paul Rudd, Danny McBride, Jason Bateman, Anna Faris, Bill Hader, Jonah Hill, Jason Segel, Russell Brand, Will Arnett, Amy Poehler, and Leslie Mann.
All are deserving choices....even
Jonah Hill
, who hunch tells me will soon prove himself to be much more than that little fat dude who scores big-deal projects by simply making Judd Apatow laugh off-camera. Seems he has some screenplays sold all of his own storytelling abilities, which says something.
Russell Brand
is one that I've yet to fully converted on; he was pretty funny in Forgetting Sarah Marshall, but that MTV Awards hosting gig was way too awkward, fish-terribly-out-of-water. The choices of
Jason Bateman
,
Bill Hader
, and
Leslie Mann
, however, are cash-money. Especially Mann, who deserves to headline her own romantic comedy already, fuck a Katherine Heigl. Mann owned Heigl in
Knocked Up
.
And then there's
Danny McBride
, who is currently proving on HBO's
Eastbound & Down
what I've felt since I ho-hum-ly watched that Foot Fist Way screener last year and became a fan: while type-casting as the "arrogant, caveman-like slob who hates everybody but himself" is possible, he's still looking at one hell of a "comedy giant" future. The fact that
Vanity Fair
shot him a la Jack in
The Shining
just makes me like the guy even more:
Here's the dude who could be considered my "man crush" if somebody put a gun to my head and asked me who mine would be:
Paul Rudd
, getting his
Young Frankenstein
on....
Finally, the funniest shot of the bunch: Sir Man Crush as Tom Ford, and Rogen, Hill, and Segel as Scarlett Johansson and Keira Knightley (three as two....use your imagination), poking fun at that 2006
Vanity Fair
cover: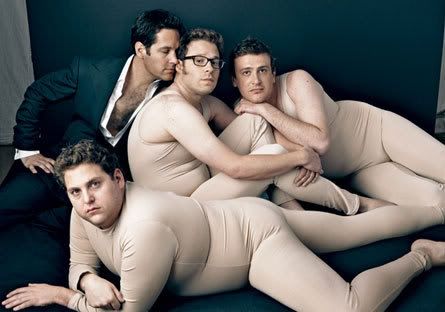 And they say that magazines are dead. Name me one website that could pull off a shoot such as this. All you'd get from these bloggers/websites would be disses and potshots thrown at these folks, possibly a Q&A paired with some seen-that-before publicity shot. So not cool.
Full gallery over at:
Vanity Fair