Mike Myers no longer Inside....
Just read over at Arrow In The Head that Julien Maury and Alexandre Bustillo---the two Frenchmen responsible for the best hardcore-horror movie in the last five years, maybe even more,
A' l'interieur (Inside)
---have left the sequel to Rob Zombie's
Halloween
resurrection. I expressed some marginal excitement over this back when the pair's involvement was first announced a couple months back, only because after the brilliance that is
Inside
, I'd be willing to watch Maury and Bustillo direct an episode of
Gossip Girl
. It'd be like the chainsaw murder scene in
American Psycho
meeting
90210
, then fucking and lasting for 40 minutes straight, and would totally rule.
Another Rob Zombie-helmed
Halloween
sounds rather blah. Just more loud, abrasive redneck/white trash characters and not enough of John Carpenter's minimalist tension. His
Halloween
was 65% of a good flick, 35% of dull raping of Caprenter's entire movie over Zombie's only-30-minute final act.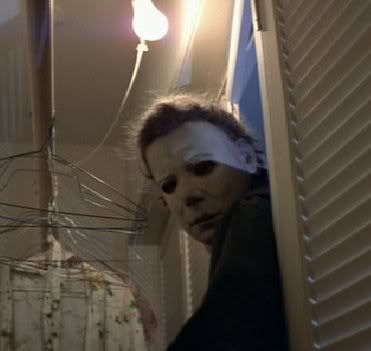 Sorry, Mike...those visionary filmmakers have come out of the closet. No La Tenia.
Now that Maury and Bustillo are off the sequel, consider any intrigue I once had completely evaporated.
Halloween 2
now sleeps next to
Saw VI
in my anticipated-horror list.
Begs the question, however....when the fuck will Maury and Bustillo direct some new goodness? Inside was their breakneck, eye-popping-via-scissors debut, but they've done nada since. They even fell off the Hellraiser remake, so smarts would now tell them to chunk a deuce to the Weinsteins and stick to limitless, own-vision-encourage foreign film. I don't think Hollywood would even work for them. They'd just become another Eric Valette, or those two dudes who made the great
Ils (Them)
and then came here and had their testicles snipped off to make
The Eye
.
In the honor of Maury and Bustillo, I think I'll toss Inside into my laptop right now, and skip to the adrenaline-rising part where Sarah comes to on the kitchen floor, assembles a makeshift spear, and prepares to bring the fiery storm to The Woman In Black, as that insane electronica score kicks in. Sickness.
Sarah, you sexy, resilient beauty. Blood-red is so your color.God, I love this movie....