When I was a wee lad, picking out my choice costume for Halloween was more important than holding onto my entire-elementary-school-career-long Spelling Bee Champion title (and that was a belt I wore with pride and vigor). Even if the final decision was far from innovative (yes, I was Jason Voorhees one year, shamefully), I made sure that my incarnation stood out from the others. For Sir Voorhees, I dabbled on tons of fake-blood smears across the hockey mask and dipped my plastic machete in the same store-bought life liquid. Not exactly a visionary tweaking, but it was something, at least.
The proudest costume in my personal history, though, was the homemade Mr. Hyde get-up I whipped together during my eleventh year. You see, Robert Louis Stevenson's classic
Dr. Jekyll and Mr. Hyde
story was, and still is for that matter, a tale that I cherished, picking up copies in hardcover, pocket-size, kiddie versions, and whatever other versions Barnes and Noble concealed. My only gripe with the Jekyll and Hyde text, however: there has never been a good film adaptation in my lifeitme. Both Fredric March's iconic performance in the 1931 black-and-white version and Spencer Tracy's a decade later (each titled
Dr. Jekyll and Mr. Hyde
, naturally) are quality, but those was many moons before my conception; I'm talking a modern-day take on the tale that doesn't suck. To date, the top interpretation (and that word is used loosely in this case) is
Abbott & Costello meet Dr. Jekyll and Mr. Hyde
, and that's only because my pops conditioned me to love the comedy of Bud and Lou. I want an actually-chilling 21st century Mr. Hyde on screen, though.
The source material is so ripe----a brilliant lab-man sips on a potion that unleashes his dark side, an inner madman that proceeds to murder. When word was announced a while back that Guillermo del Toro was developing a fantastical spin on the story, I felt content. del Toro can do no wrong in my eyes. But now, a second in-development Jekyll and Hyde has hit the news circuit, and this latest one is going to star
Keanu Reeves
......Keanu fucking Reeves?!?!
Sigh squared.
Yes, I love
Bill & Ted
as much as the next twenty-something, as well as Speed, but don't let anybody fool you into thinking that Reeves has the necessary acting chops to pull off the double-sided emotions of Jekyll and Hyde. There's a reason why I consider his emotionless alien role in that mediocre
The Day the Earth Stood Still
remake to be typecasting.
Reeves' film will be titled
Jekyll
, simply, and is said to be a "modern-day" update, meaning the original story's Victorian setting will be ditched for today's landscape.
Sigh, again.
Let's see.....actors more suited to play this two-for-one character: Clive Owen, Sam Rockwell, and Michael Shannon, for starters. Keanu Reeves would place about 87th on my wish list.
Sigh fucking sigh.
****In a lighter, much cooler change-of-topic, here's the first official poster for Neill Blomkamp's
District 9
, a film I've been writing about a bit here lately. It's a great, nice and subtle eye-opener for the flick, clearly delivering the film's "aliens are social outcasts" theme. And it makes me smile amidst that awful Keanu Reeves item.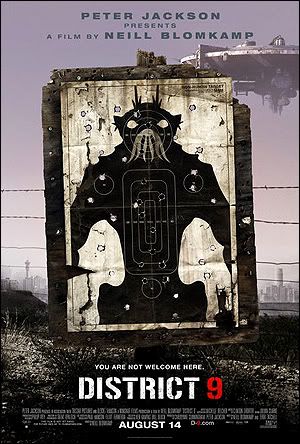 Both bits courtesy of:
Empire Online